2018 The Belmont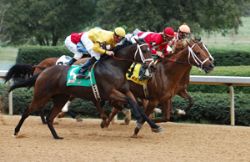 2018 The Belmont
June 8-10, 2018 – Long Island, New York
Be at the 3rd race for the Triple Crown!
Land Features:
Two nights at the Hilton JFK Airport
Breakfast Daily
Belmont Stakes Race Ticket - the 2nd/3rd Floor Grandstand (Orange Sections S-DD)
Two Days Intermediate Size Car Rental
Optional Add-Ons:
...

Sports Empire is your ultimate authority in delivering sports and special event packages. Offering a lineup of the biggest and most exciting sporting events throughout North America –combined with a proven history of delivering the most complete and hassle free packages – Sports Empire offers the professional travel community the best value for customized sports and special event packages.
Our reputation has been built on over thirty y
/div>
...