Upcoming Escorted Trips: Click on highlighted links below to print registration slip. No Credit Cards accepted for Day Trips
FOR ALL DR. PHILLIP CENTER SHOWS I AM REQUIRED TO PAY A 25% NON-REFUNDABLE DEPOSIT STARTING LAST YEAR. THE SMALL DEPOSIT THAT WE ARE ASKING FOR ON THESE TRIPS IS TO COVER THIS PAYMENT. WE WILL NOT CASH THESE CHECKS UNLESS WE GET THE MINIMUM NUMBER FOR EACH TRIP. THE DEADLINES HAVE TO BE MET WITH NO EXCEPTIONS. PLEASE SEND IN YOUR CHECKS OR THESE TRIPS WILL BE CANCELLED AND I WILL HAVE NO WAY TO REINSTATE THEM. I WILL NOT GET THE RATES FOR THESE TRIPS UNTIL SEASON TICKET HOLDERS HAVE CONFIRMED THEIR SEATS FOR THE SEASON. I EXPECT THESE SHOWS TO BE SIMILAR IN PRICE AS LAST YEAR APPROXIMATELY $138-$150. AS SOON AS I RECEIVE CONTRACTS I WILL HAVE THE RATES POSTED. MANY CLIENTS HAVE ALREADY SENT IN THEIR CHECKS SO THEY WILL GET THE BEST SEATS. THANK YOU FOR YOUR UNDERSTANDING.
Dr. Phillips update for 2017-2018 season: they now have over 15,000 season subscribers which leaves only last 2 rows of the upper balcony available for purchase by groups such as ours. If you have vertigo I do not suggest you go, but the seats have the same view (distance from the stage as lower levels in those row as this is new state of the art theater). The rate will be $48 less per person and this will be the view :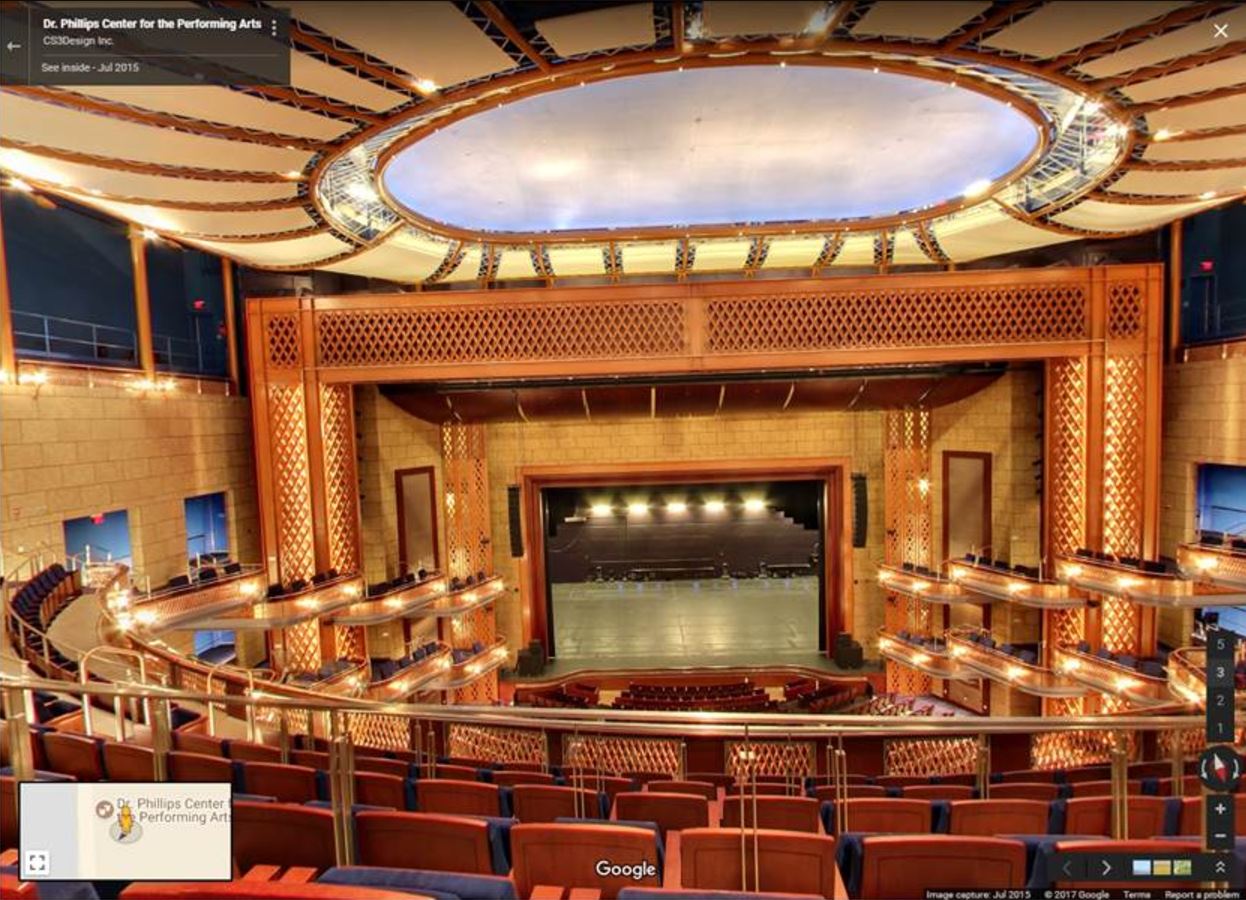 Mission Inn Luncheon and Winery Tour - RESCHEDULED FOR WEDNESDAY JANUARY 17TH - $62 - enjoy a fabulous lunch at the Hacienda Restaurant at the Mission Inn, Howey in the Hills before going on tour of the Lakeridge Winery. Sign up by December 15th, minimum of 35 needed for this trip.
Mt Dora Craft Fair - Saturday, October 28th - $40 - enjoy the day exploring the Mt Dora Craft Fair. Have lunch on your own with local vendors or restaurants. Deadline to sign up is October 16th, minimum of 35 needed for this trip
Tarpon Springs - Wednesday, November 1st - $89 - start the day with a 1 1/2 hr boat ride looking for dolphins, manatees birds and historical sites. Lunch at Yannis Greek Restaurant then enjoy the sponge factory and museum. We have a surprise host for you on the is trip! Deadline to sign up is September 15th minimum of 35 and maximum 48 for this trip. SOLD OUT, WAITLIST OPEN
Andrew Lloyd Webber Love Never Dies, The Phantom Returns - November 25th - $145 - this story of boundless love, full of passion and drama follows the Phantom of the Opera as the sequel continues. The year is 1907, 10 years after his disapperance from the Paris Opera House and the Phantom has escaped to a new life in New York where he lives amongst the screaming joy rides and freak shows of Coney Island. He has finally found a place for his music to soar but he has never stopped yearning for his one true love and musical protegee, Christine Daae. final due by October 1st , ORCHESTRA SEATS STILL AVAILABLE
11th Annual Key West Trip - December 3rd-6th, $515 per person based on double occupancy, $757 for single - this trip will include roundtrip motorcoach, lunch on the way there and on return, dinner first night upon arrival at the hotel, 3nights accommodations at the Fairfield Inn and Suites that has the trolley stop at, breakfast daily, and a Behind the Scenes tour at the Mel Fisher Museum. There will also be an optional excursion offered for female impersonator show at La Te Da as this was a huge hit last year. Non-refundable deposit of $100 per person is now being accepted. Minimum of 40 passengers needed for this trip. KEY WEST IS OPEN NO DAMAGE, 2 ROOMS ARE AVAILABLE, final payment due by October 1st
The Singing Christmas Tree - Saturday, December 9th - $87 - From its beginning over three decades ago, The Trees have become one of Central Florida's most loved and spectacular traditions. Featuring a huge choir, full orchestra, worshipful dance, powerful drama and a beautiful display of 250,000 lights, The Singing Christmas Trees is an exciting presentation of Christmas classics and the pageantry of our two 40-foot-tall Christmas Trees. Deadline to sign up is October 24th, minimum of 35 for this trip.
Annual St Augustine Night of Lights trip - Thursday, December 14th - $89 - join us on our annual Night of Lights tour by horse and carriage. Spend the day doing some last minute Christmas shopping, then enjoy dinner at Barnacle Bill's, followed by the night of lights tour. deadline to sign up is November 1st, don't wait as this trip typically sells out in a month! SOLD OUT WAITLIST OPEN
Waitress - March 24, 2018 - $92- inspired by Adrienne Shelly's beloved film, Waitress tells the story of Jenna, a waitress and expert pie maker. Jenna dreams of a way out of her small town and loveless marriage. A baking contest in a nearby county and the town's new doctor may offer her a chance for a fresh start, while her fellow waitresses offer their own recipes for happiness. Jenna msut summon the strength and courage to rebuild her own life. These are upper balcony tickets at this time, if Broadway Across America opens lower level tickets then we will have first dibs for them and we will reprice. final payment due by February 1st
Something Rotten - April 28th, 2018 - $92 - set in the 1590's the hillarious smash hit tells the story of Nick and Nigel Bottom, two brothers who are desparate to write their own hit play while the rock star "Shakespere" keeps getting all of the hits. A local soothsayer foretells that the future of theater involves singing, dancing and acting at the same time, Nick and Nigel set out to write the worlds first Musical. Something Rotten is The Producers + Spamalot + Book of Mormon squared! These are upper balcony tickets at this time, if Broadway Across America opens lower level tickets then we will have first dibs for them and we will reprice. final payment due by March 1st